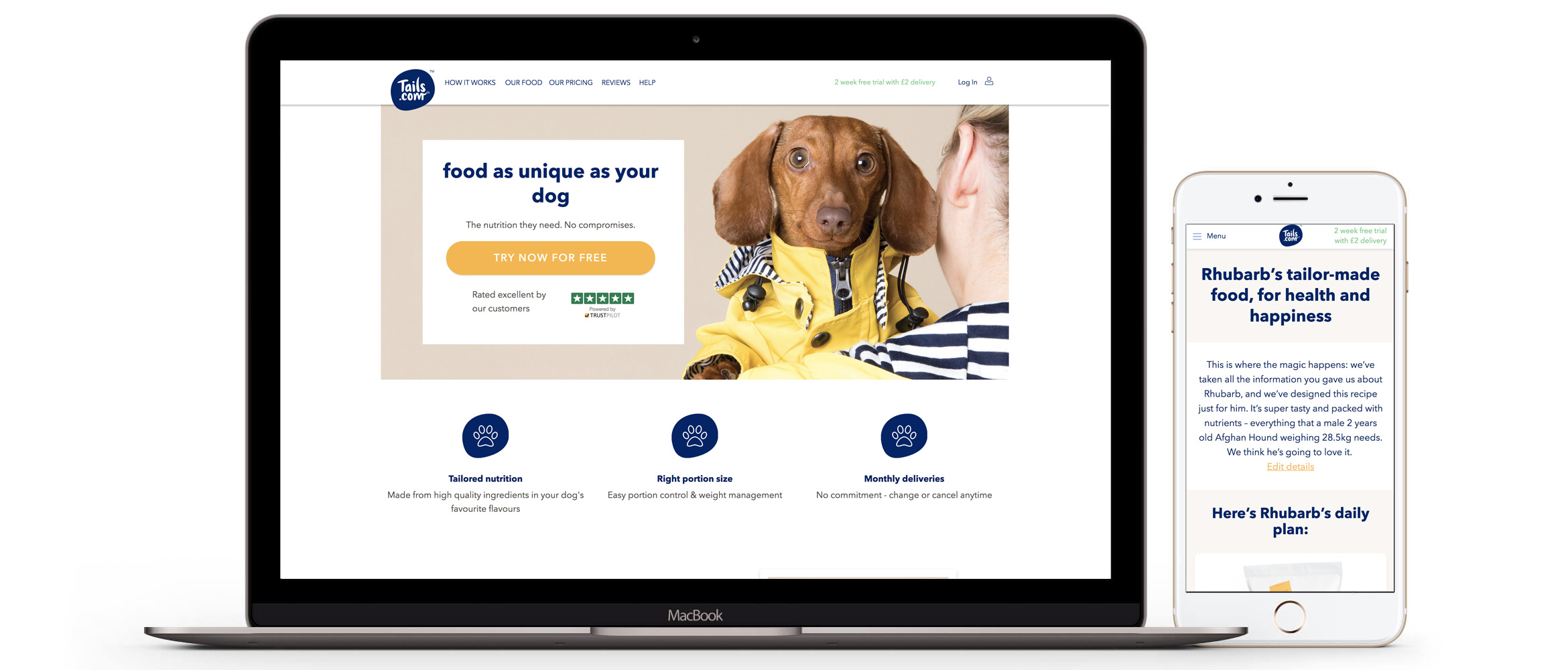 User Research | UX Design | UI Design | Usability Testing
Tails.com are a young tailor-made pet food company based in Richmond, London. In the short 4 years that they have been in business they have created a 100+ employee strong business based around their unique algorithm. This produces a bespoke kibble blend for your dog that is approved by vets. They are now closing in on 100000+ active customers and are growing rapidly.
I was recruited for a 3 month contract at Tails.com (extended to 4.5 months) to provide some much needed UX input on their already fully functional site. The amazing tech behind the scenes had to be implemented quickly and not enough thought had been given to the front end, the UI and the overall customer experience.
I joined the 'Growth Squad' who were responsible for growing the customer base by improving the experience of signing up to the service and retaining customers by making the logged in areas (account, food and portion management, delivery management) of the site more user-friendly. This included:
Mapping of existing user journeys
Widespread user research—including interviews of existing and potential customers—to define potential pain points in the existing processes
Wireframing new and improved user journeys
Creating new UI elements and modules for new features
Hi-fidelity prototyping for usability testing
Currently, a lot of my work for Tails is still under development. In accordance with my non-disclosure agreement, I cannot show the work at this time. Full case studies of some of the following will be available in the future:
Research and concept piece for wet food integration in the sign up process
Integration of non-core item (more commonly known as dog treats) upselling into the sign up journey
A complete re design of the pricing page to make the distinction of trial pricing and ongoing subscription pricing clearer
Prototyping a new logged in journey in collaboration with our user researcher
A colour theory piece to improve accessibility throughout the website
In the meantime, I can show you some of my amazing co-workers that I had the privilege of working with and walking. All very good boys and girls.